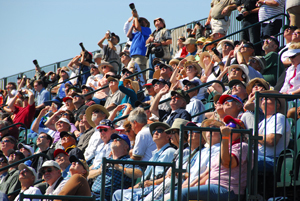 Producing and marketing an air show is a challenging task for an airport. But with the assistance of the experienced ABS staff, we can help you host an event that builds community relations and showcases your airport.

Our air show services can be tailored to fit your needs. From partial assistance to complete, turnkey production, we can help insure your show is a success!
30 years of air show production and management
Airside management or full air show production
Air show layout
Budget development
FAA paperwork
Military forms and contacts
Development of performer contracts and schedules
More than 25 events with USAF Thunderbirds and/or Blue Angels
Multiple air show vendor contacts
Daytime air shows, twilight/night air shows, fly-bys, and static displays
Four Air Bosses - all with more than 30 years as FAA controllers
Experienced Ramp Bosses
Event website development
Event marketing – planning, materials, programs, media planning and coordination
Ticket sale coordination
ICAS member
Recent event management includes:
Florida International Air Show
Cecil Field Air Show
Branson Air Show
Gathering of Mustangs and Legends
Salute the Troops - GA Air Show
Red Bull Air Races - North America
Acapulco Air Show Extravaganza
La Aurora Air Show - Guatemala City, Guatemala
Texas Memorial Air Show
For more information on how ABS Aviation can assist with your air show, Contact: Bobbi Thompson @ bthompson@absaviation.com or (239) 980-5114.